Introducing the "right" Chatbot to your digital App can make a huge impact like it did for Nomura Securities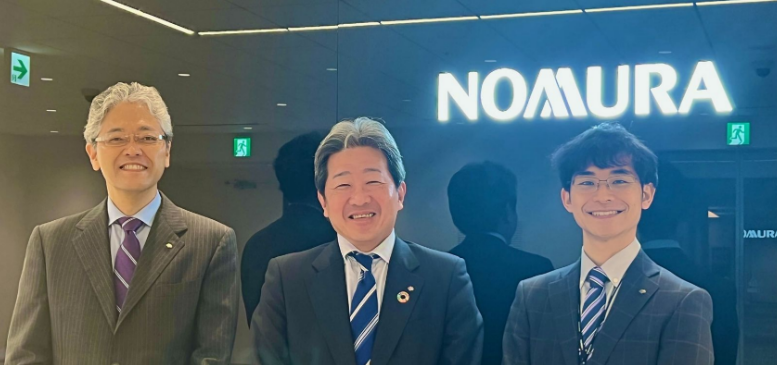 The AI ​​chatbot "Alli" provided by Allganize has been adopted for the asset management application "OneStock" operated by Nomura Securities Co., Ltd. (hereinafter referred to as "Nomura Securities"). Chatbots have already been introduced in "OneStock", but switching to chatbots equipped with AI was considered, and "Alli" was selected and introduced.
We interviewed Mr. Ikeda, Mr. Naka, and Mr. Tafuku of Nomura Securities who were in charge of the introduction process.
Please tell us about Nomura Securities' efforts as a digital company division.


Mr. Ikeda: At the digital company I am in charge of, in addition to having direct contact with customers through human interaction, we also have contacts from the digital environment, and we aim to provide fully digital financial services from those contacts.
As part of this, we will collaborate with companies that have strengths centered on priority areas such as AI technology, and alternative investment to create new industries, develop OneStock, and FINTOS !, NOMURA (*), and provide automatic consultation services. We are expanding the range of services provided in the digital domain through the use of AI chatbots.
Mr. Naka: At the digital company I belong to, I am conducting research on AI technologies and AI vendors and disseminating those technologies in-house, mainly in the field of natural language processing.
Mr. Tafuku: I use Alli from Allganize as part of our efforts to automate consultations and inquiries so that the services provided by Nomura Securities can be used by users 24 hours a day, 365 days a year. I am in charge of introducing AI chatbots centered on FAQs to each service owned by Nomura Securities.
* Details of the app provided by Nomura Securities are as follows.
・OneStock : An asset management app that allows you to link and manage assets held by multiple financial institutions.
・FINTOS ! : An app that provides carefully selected investment information.
・NOMURA : An application that allows customers to collectively trade and manage the status of multiple financial assets held by Nomura Securities.
Considering switching due to the issue of increasing accuracy and man-hours for handling with the expansion of services


Mr. Tafuku: OneStock provided scenario-style FAQs that are not equipped with AI or chat functions, but as the number of FAQs increases due to the expansion of services, usability (searchability) declines and the man-hours for responding to inquiries increase, was an issue.
Since the answer accuracy of the FAQ chatbot that was used before remained at the level of 50-60%, the AI ​​chatbot of OneStock aims to improve the answer accuracy of the FAQ and reduce the operation manpower in customer support. We have started to consider the introduction.
Compare and verify 4 AI chatbots including Alli


Mr. Naka: In order to solve the problems of FAQ chatbots, we first collected information on AI chatbots.
The reason for learning about Allganize is the introduction from the person in charge at Microsoft. The person in charge informed us that "there is a company that excels not only in AI chatbots but also in Japanese machine reading technology."
In order to collect information from multiple companies and make selections, we narrowed down the vendors that provide AI chatbots to four companies and conducted comparative verification.
"(1) AI performance," "(2) operational efficiency," and "(3) operational cost" have been set as items for comparison and verification.
① AI performance

In order to verify the performance of AI, we registered question items and answers in each AI chatbot in the unlearned (or minimum learning) state and compared and verified the answer accuracy.
As a result, it was Allganize that had the highest answer accuracy in the unlearned state.
The second was Company B, which carried out the minimum learning and verification, and then Company C and Company D.
(2) Operational efficiency

[1]: Comparison of each company regarding the flow from environment construction and provision to initial registration of FAQ.
・ Allganize: It takes 1 business day to provide the environment, and FAQ registration is completed in less than an hour.
・ Company B: It takes about 2 weeks to complete the environment construction and pre-learning mechanically.
・ Company C: Environment is provided in about 3 to 5 business days, and initial FAQ registration is completed.
・ Company D: Only the account creation could be done in a few minutes, but the FAQ registration work for 50 questions was completed in 2 to 3 business days.
[2]: FAQ Comparison of additional learning by each company
・ Allganize: Automatic learning based on user evaluation and easy learning on the GUI by the administrator.
・ Company B: Human learning by Company B.
・ Company C / Company D: Registration of related words and phrases is required.
From the above results, it was decided that Allganize, which can be used in a short period of time and automatically learns by the user, is good.
③ Operational costs

In terms of cost, Company D, which has a pay-as-you-go system, is the cheapest, followed by the initial cost of $1,804. The monthly cost of Allganize that can be used from $721, and then B, which takes thousands to introduce. It was the result of company C and company C.

What was the most important point in your consideration and why did you choose Allganize?


We placed particular emphasis on "cost-effectiveness (eliminating the increase in man-hours)". As a result of comparative verification with each of the four vendors, we decided to select Allganize's "Alli", which has high response accuracy by AI, low initial operation load, and can be provided at low cost .
Alli is easy to operate. What did you find particularly easy to use?


[1] Chat flow construction and FAQ registration are possible with no code
Mr. Tafuku: Since existing chatbots require various coding and implementation using JSON, a knowledgeable person in charge made corrections and implementations. Alli can be implemented with no code, for example, you can create a chat flow with GUI and register FAQ. As a result, it can be operated without personalization, and maintenance such as corrections and additions has become easier.
[2] Chatbot analysis function
Mr. Tafuku: Alli allows you to aggregate and analyze at any time, making it easier to analyze user trends, frequency of use, and improvements.
What has changed since the introduction of Alli and what is your company's reputation?
Mr. Tafuku: To be honest, before the introduction, there were concerns about "Is it really better with a lower price than the previous chatbot?" "Can you realize the benefits of replacing?"
However, when I entered the question from the time of verification, I first realized the big difference and effect that the answer was returned immediately. In addition, the operation system used to require three people, but the fact that it can be operated by almost one person has made me realize that the man-hours required for chatbots have been reduced.
Mr. Naka: With the introduction of Alli in OneStock, we have received inquiries from each department regarding the introduction of Alli, and voices regarding the introduction of Allganize into a separate service, and we are implementing proposals.
In addition, there is a report that the number of inquiries about services provided within the digital company is increasing, so in preparation for the introduction of FAQ chatbots for the inquiries, the frequency of use since the introduction to OneStock, etc. we are sharing. We are preparing for the introduction, including the effects of the introduction.
How was your support from Allganize?

Mr. Tafuku: At the initial construction stage, we were able to take over the environment at the time of verification, received advice on operation methods, guidance on how to use from other companies' cases, etc., and we were able to smoothly build the environment at the time of introduction.
In addition, it was very helpful to have us flexibly respond to consultations regarding functions unique to our company and requests regarding the system.
Since then, we have been receiving generous support such as advice on the operational system, monthly support for analysis, and suggestions for improvement.
Furthermore, we are very grateful for your active efforts to improve the system.
Future outlook for digital companies and what to expect from Allganize


Mr. Ikeda: In general, the movement of digital transforms is getting stronger. The reason why we have to transform is that the customers themselves have changed. I think that changing the business model itself is changing the way of thinking.
Asset management is difficult in the first place. That is why there are still few people in Japan who are operating it. Whether it's human or digital, the customer wants to improve their performance. I would like to support it.
From the perspective of communicating with customers digitally, I would like to first utilize AI chatbots. We would like to develop an AI chatbot as one of the communication tools for each service in asset management, accumulate the communication data that has occurred, and utilize it for future actions.
In addition, overseas financial institutions are beginning to provide more cutting-edge digital services. We hope that the collaboration between natural language processing technology and Nomura Securities' services will create new services and technologies We would like to the services together with Allganize.
Advice for companies considering introduction


When trying to recommend the introduction of a new technology or solution to the user department, it may be difficult to understand the image after the introduction from the cases of other companies alone. There were many uneasy voices when introducing it with OneStock.
Alli can provide a verification environment (management screen) in one day from the request, and if you already have a set of frequently asked inquiries and answers, registration will be completed in a few hours. You can immediately verify the usability and AI accuracy.
Not having to spend a lot of man-hours in the verification shortens the examination time for introduction and reduces the burden of initial development, so I feel that it is an easy tool for companies that have not introduced it until now.
In terms of support, we were kind enough to accept requests for chat functions and consultations, and we were able to quickly respond to improvements and implementation. I would like to continue working with you as a partner to grow AI chatbots together.