(Update on 6/4/2020)
Now you can select variables as compare-to-value. Click the icon on the left side of the value field to convert between static value and variable.

A new condition 'Similar to' is added. You can adjust the confidence value to decide the similarity.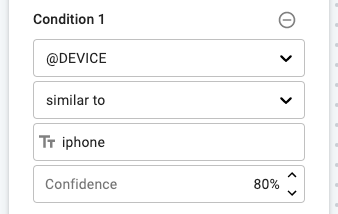 ---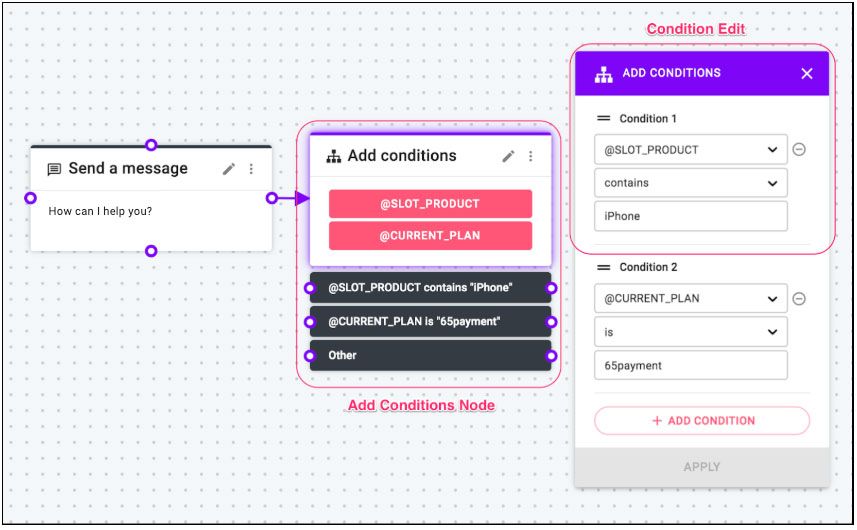 Conditional logic allows you to hyper-personalize your user experience.
Conditions Node: In the top part of the node, you should see the variables in use in the condition(s); In the bottom portion of the node, you should see the conditions which you can use to split the path of the chatflow.
Edit Conditions Node: Click the Edit icon in the node to add conditions. When you ADD OPTION, you can add conditions in each OPTION group and they are joint by AND operator. When you create a condition, select the variable from the first dropdown, then the operator to compare the value. In the third field, enter the value to compare to.
FAQ Variables
There are variables related to the FAQ feature that you can utilize to customize the chatflow experience based on user's FAQ interactions:
@FAQ_SELECTED_ID
@FAQ_SELECTED_QUESTION
@FAQ_SELECTED_ANSWER
@FAQ_SELECTED_HASHTAG - only when hashtag's used