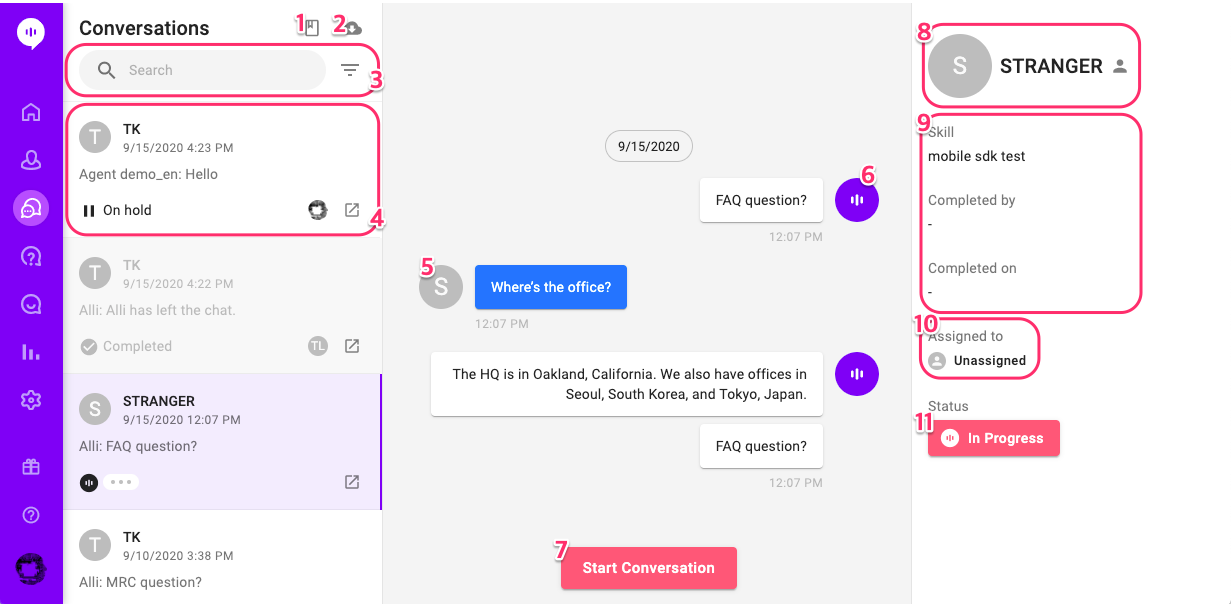 Help: Link to this user guide.
Download: Download the conversation logs. Filter applies.
Search & Filter: Look for the conversation you want using keyword search or filtering. Click the filter icon to open up the filter popup.
Conversation Card: Summary of a conversation which includes the name of the user,  most recent message and the time, status, etc.
User's messages are on the left side of the conversation pane.
Chatbot or agent's messages are on the right side of the conversation pane.
Start Conversation Button: Agent can click to begin a human conversation with the user directly. Once the button's clicked, an input field will appear. You can also attach files to upload to the conversation from the input field.
User Name & View profile: Click the person icon next to the name and the avatar image of your customer, and check profile information of the customer, including ID, email, and other information stored in variables.
Conversation details: The name of the Skill that the conversation is started with, and completed by / completed on info if the conversation is a completed one.
Assigned agent: Agent that's assigned to this conversation. Admin or Super Admin can click on this and change the assignee.
Status: Status of a conversation which can include In Progress, On Hold and Completed. Agents can update a status manually or Alli changes the status accordingly by events. For example, if an agent clicks Start Conversation button, the status changes to In Progress.