Alli User Guide - Fill Slots Node
Fill Slots node help you gather, validate, and confirm slot values.
The Fill Slots node and the Determine Intent node are available when NLU model is enabled in Settings > NLU. To use the Fill Slots node, you'll need basic understanding in NER (Named Entity Recognition) and Allganize's NLU dashboard account set for NER. Please check out this webpage for more details.
This is how the Fill Slots node and the editor looks like.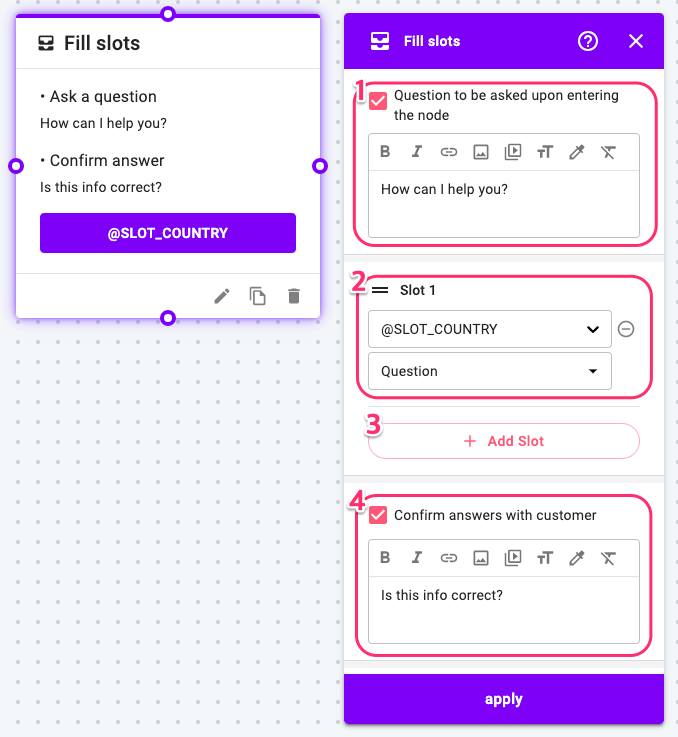 Question: When checked, you can input a question to gather user responds with the answers needed.
Slots: The information you are extracting from customer's input. Select the variable to save the info and type in a question for the case when this slot is not filled by the customer's initial input. The conversation continues until all slots needed are filled and confirmed.
The variable list is decided by the Named Entities you set from your NLU dashboard. You can see available SDK variables under Settings > Variables > System tab.
Add Slot: Click to add more slots. You can add multiple Slots in one node.
Confirm: When checked, the end user can verify whether the value gathered is correct or not.
Learn More About Allganize's Technology